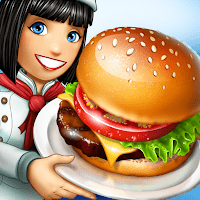 Cooking Fever: Restaurant Game

100008
| | |
| --- | --- |
| Size : | 135.27 Mb |
| Version : | 16.1.1 |
| Updated : | October 12, 2022 |
| Developer : | Nordcurrent |
| | |
| --- | --- |
| Size : | 183.30 Mb |
| Version : | 16.1.1 |
| Updated : | October 13, 2022 |
| Developer : | Nordcurrent |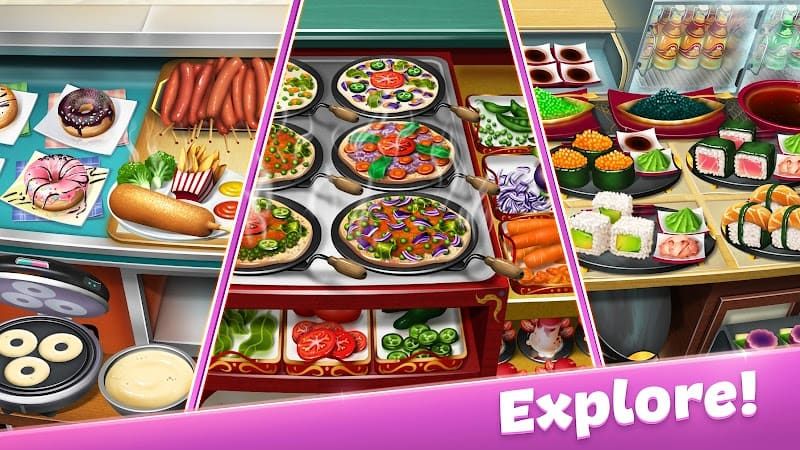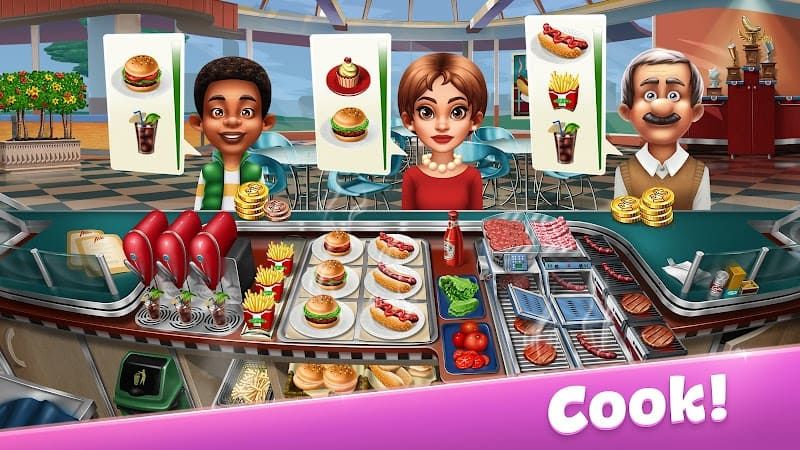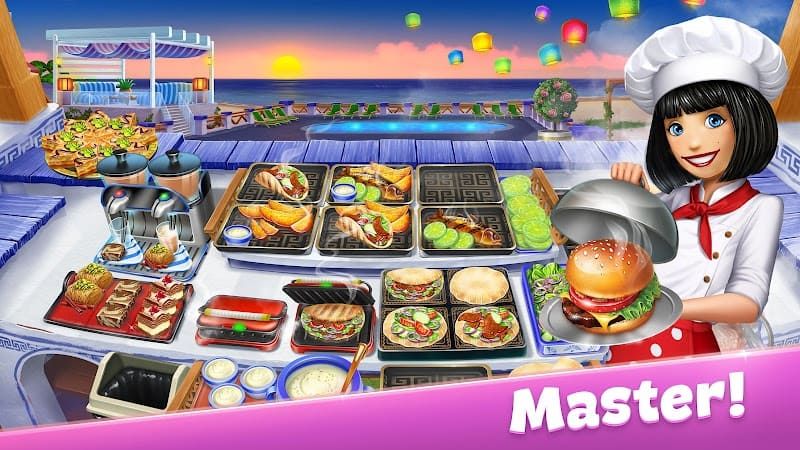 YouTube Cooking Fever: Gameplay Walkthrough Part 1 - Fast Food Court Level 1-5 (iOS, Android)

61

33
REVIEW
To begin with, if you are a person who has strict requirements on the game graphics, then the outstanding advantages of Cooking Fever can fully meet your aesthetic requirements. The overall pictures of the game is presented on a 2D horizontal graphics, rendered in a cartoon style, coupled with bright colors, making the whole game look very comfortable. What's more, the game has a good restoration of various ingredients, whether it is hamburgers and hot dogs in western restaurants, or cakes and snacks in dessert shops, etc., will arouse players' desire to try this game.
Next, what I want to say is that as far as a simulation game is concerned, in addition to rich and colorful food, the customers in the game are also the top priority, and even indirectly affect the player experience. For example, the expressions of customers in the restaurant of this game are relatively rigid, and they do not reflect the satisfaction after eating delicious food at all, which makes players get bored or even lose motivation quickly. In addition, the monotonous gameplay is also the disadvantage of this game. After playing for a long time, you will feel an obvious sense of repetition.
On the whole, although there are some deficiencies, this game is considered to be a good simulation mobile game in the same category. Its diverse restaurants and ingredients really make people's eyes shine, and it has a good performance in sound effects. I recommend it to everyone to try. I sincerely recommend it to anyone who likes simulation games.
How to play
【One Sentence Introduction】
Having fun of running restaurants and cooking, playing Cooking Fever: Restaurant Game will definitely leave you with a memorable game experience!
【Gamematch3'sRecommend】
Have you ever craved for being a culinary master and managing many restaurants? If so, here in Cooking Fever: Restaurant Game, you are in for a real treat. It is a fascinating cooking simulation game that requires you to serve various meals to as many customers as possible in a set amount of time. The faster the food you served, the more satisfied the customers will be and the more tips you will get. As you go through more levels, you'll accumulate a large sum of coins and diamonds, which you can use to upgrade your kitchenware or dining room or even purchase a new storefront. Clearly, as a fast-paced game, Cooking Fever inherits similar gameplay mechanics to other restaurant simulation games, which can exercise players' ability of time management and quick interactions with customers as well as strategic thinking. It is a good time killer and you can pass a level within minutes. Playing in this game, you need to meet a large number of customers' demands, which may vary from simple ones like a cup of coffee or coke to complex ones like grilled oysters or burgers. The further through the levels, the more customers' requests for complex dishes. In this case, it is essential for you to make sure that you know exactly how to prepare each dish and that you're pretty familiar with it. For example, if you receive an order for a chocolate cake, you need to spend some time stirring the batter first, then put it in the oven and take it out in time to put the chocolate sauce on it before it burns, and finally serve it to the customer as quickly as possible before they lose their patience, or they will leave angrily and cancel the order. In addition to your ability to time arrangement, it's also necessary for you to be strategic. As mentioned previously, when investing your coins and diamonds in upgrading store decoration or kitchen appliances, you need to strategically prioritize them. For instance, in some levels, upgrading the number of your baking trays helps to cook more efficiently than upgrading the tables and chairs in your restaurant. More importantly, Cooking Fever is totally free for players of all ages with its addictive but engaging gameplay, making it become a must-download game for anyone!
【Gamematch3'sReview】
Cooking Fever: Restaurant Game, as a classic restaurant simulation game, brings you a brand new experience with its pleasant background music, quick rhythm, as well as its refreshing interface. From hot dogs to muffins to customers from all over the world, the graphics and movements in this game are so close to real life and detailed that enables players to feel like they're running a real restaurant. Additionally, whenever you open a different interface, such as the interface when you pass a level or when you purchase a storefront, charming background musics and sound effects will appear enabling you to play more immersively and smoothly. It's worth noting that you may need a lot of diamonds to upgrade your kitchenware and storefront in the later stages, but unless you purchase an in-app package where contains certain diamonds, it will take a while of waiting and hard work to accumulate enough diamonds.

Android
Go to Google Play

iOS
Go to App store

Online Game
Go to Play Online Games
Good App Guaranteed:
The game download links are from the official download platform App Store and Google Play, safe and free of malicious plug-ins, please feel free to download.
New Games