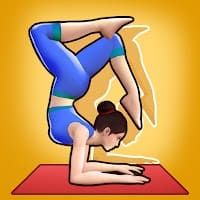 Yoga Workout

10003
| | |
| --- | --- |
| Size : | 51.38 Mb |
| Version : | 1.5.0 |
| Updated : | September 16, 2022 |
| Developer : | OneSoft |
| | |
| --- | --- |
| Size : | 246.45 Mb |
| Version : | 1.5.0 |
| Updated : | September 22, 2022 |
| Developer : | OneSoft |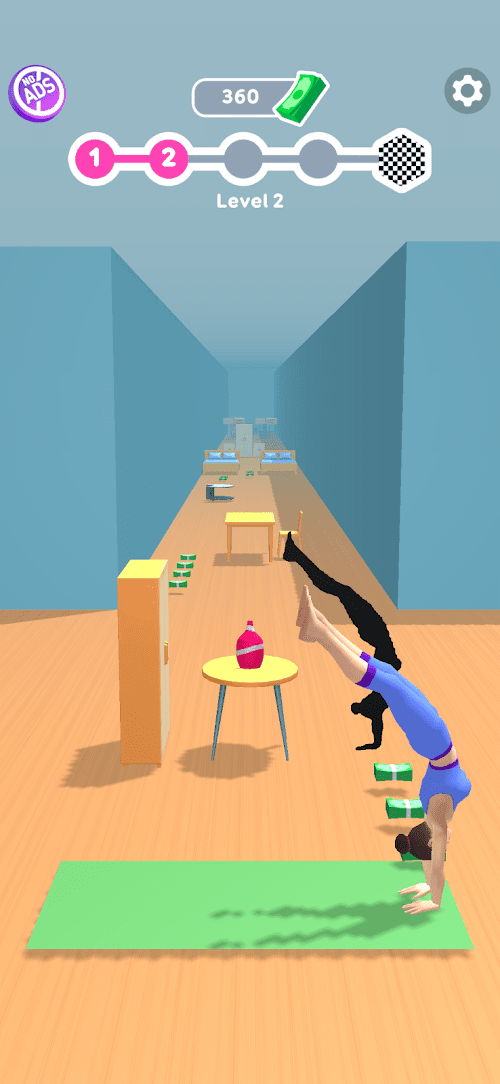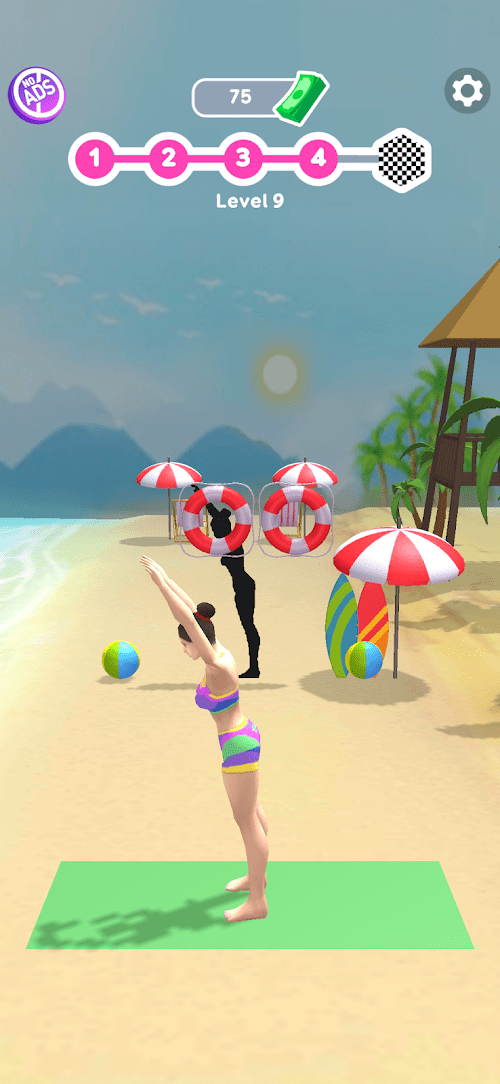 YouTube Yoga Workout Gameplay Walkthrough #1 (Android, IOS)

30

6
REVIEW
YogaWorkout is a unique casual game in which you can control your character and perform various yoga moves. The more difficult the moves are and the more they are completed, the more coins you will receive. You must be careful to avoid mistakes in the process of breaking through the levels.You can also choose from different props to help you get through the levels quickly. The difficulty of the missions will gradually increase as you level up. The graphics are very clear and colourful, so you can enjoy a relaxed and comfortable atmosphere. Each level requires different yoga moves, and the higher the level of completion, the more points and rewards you will receive.
You can do all kinds of difficult moves in this game, with a fun way of operation, you can freely switch between different game scenes, with high clarity, you can also unlock more couples yoga moves to feel the fun of advanced challenges, so you can immerse yourself in the game and enjoy all the joy of yoga, and the game is very easy to complete. The game is easy to complete and suitable for every age group. However, there are sometimes problems with the screen getting stuck when you actually start the game.
How to play
【One Sentence Introduction】
Be a Yoga professional and work out in 3D graphics!
【Gamematch3's Recommend】
Practice your Yoga by joining the yoga simulation game called Yoga workout. The 3D game will provide you with an authentic and immersive yoga experience and challenge you with different levels. You will be in control of a character and move her body to do yoga postures and correct the positions. Learn the basic knowledge of yoga and test how flexible your character can be. A variety of yoga positions will be available for you to imitate. To do the positions correctly, you have to be careful and patient enough to overcome the obstacles and gather as many bonuses as possible. Win the game requires you always find a way to keep a balanced position during the gameplay process. The addictive gameplay mechanics will entertain you with all kinds of levels and positions, shaping you gradually into a professional yoga practitioner. More than one hundred levels are at your disposal and waiting for you to challenge. You can boost your bonuses by playing the bonus levels and it is a great chance to learn how to do yoga for free. The game features beautiful and soothing music and the graphics are well-designed in 3D. The game is free of charge and anyone can try this game without worrying about costs. The game contains ads so you need to be patient not only during the gameplay but also when waiting for the ads to end. You could test the character's flexibility and your own patience and skills through the game. The game is rated for 3+, meaning players at or above the age of three years old could try it. The controls of the game are also easy for players to operate, coupled with concise instructions for each posture and position.
【Gamematch3's Review】
Yoga Workout is quite an educational game featuring professional positions of Yoga, offering players who originally might have no intention to learn about Yoga start to practice Yoga virtually and learn specific positions of it. It encourages people to exercise and lead a healthy lifestyle. What's more, the 3D graphics immerse players in the game. The game also sets a low benchmark for players to join since it is free of charge. However, the ads might be somewhat annoying for playing who want to seek for inner-peace in the game. Also, the positions are not varied enough for players to totally grasp the gist of yoga. Furthermore, once players lose the game, they have to start all over again, which is quite a waste of time. On the whole, the disadvantages of the game can not outrun its advantages. The game contains educational significance and is strongly recommended for players who want to have a healthier life and learn how to do yoga for free. If you could master the game, it will not be a big problem for you to become a yoga master in real life.

Android
Go to Google Play

iOS
Go to App store

Online Game
Go to Play Online Games
Good App Guaranteed:
The game download links are from the official download platform App Store and Google Play, safe and free of malicious plug-ins, please feel free to download.
New Games