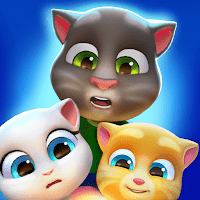 My Talking Tom Friends

20063
| | |
| --- | --- |
| Size : | 145.75 Mb |
| Version : | 2.5.2.7935 |
| Updated : | October 17, 2022 |
| Developer : | Outfit7 |
| | |
| --- | --- |
| Size : | 190.06 Mb |
| Version : | 2.5.1 |
| Updated : | September 20, 2022 |
| Developer : | Outfit7 |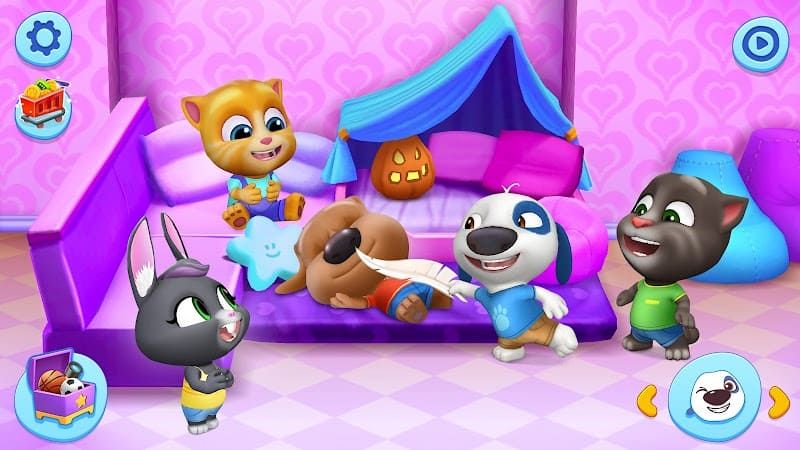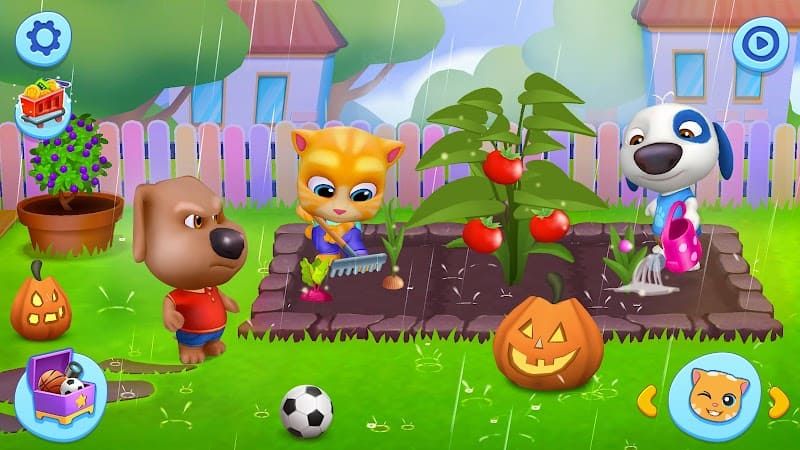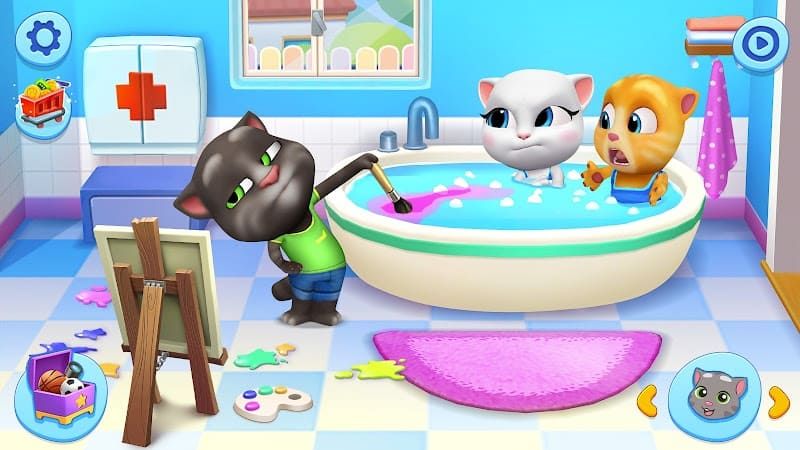 YouTube My Talking Tom Friends (iOS,Android) Gameplay Walkthrough (Outfit7) - HD

222

162
REVIEW
The first advantage of the game is that its overall difficulty is not high, but the game is very interesting, especially suitable for children to play. Compared with the previous popular virtual pet series games, the virtual pet gameplay has been comprehensively upgraded in this game. The game provides six pets including Tom, Angela, Hank, Ginger, Ben and Becca waiting for the player to accompany, and have a fun together.
The second point is that the operation design is very simple, and the detailed and realistic game guidance system allows children to easily master the operation of the game. Various small games and interactive contents in the game bring players a leisure experience that can easily decompress. Even the more common development functions have been given a new gameplay experience and more realistic game effects by the game.
Overall, My Talking Tom Friends can be regarded as a fun game suitable for all ages. The simple operation and easy-to-understand novice guide in the game meet the game needs of children, and some real experiences in life allow adults to obtain for the fun of raising pets, a variety of pet choices allow players who like all kinds of pets to find their own goals, so as to get the best gaming experience.
How to play
【One Sentence Introduction】
Raise Tom and its five friends at the same time and try to provide them with a comfortable life to foster their happy growth.
【Gamematch3's Recommend】
My Talking Tom Friends is a pet-raising game in which players are responsible for taking care of six animal characters at the same time. Enjoy the daily company of those furry friends and have a blast! Interact with those cute characters and customize their appearance with items offered in the game. Try your best to manage the multiple lives of this group of cute creatures and make them content with their lives. Developed by Outfit7 and as the consecutive series of the previous My Talking Tom and My Talking Angela, the game differ from its previous versions by enabling players to keep multiple animals at the same time. In the game, you will be greeted by a closet full of fashionable garments, offering you a wide array of choices to dress your characters. By feeding each character with all sorts of food, you will be able to observe disparate reactions, which might be quite funny. Also, there are activities involving creativity and sports for every character to join to lead a healthy and happy life. Throughout the gameplay process, you can collect all kinds of items like toys, stickers, and coins. For the toys, entertain your characters with them. As for the stickers, simply keep a collection of them for fun. And coins will enable you to unlock more items for the good of characters. You can let your characters go on trips on a daily basis and you can also entertain them and yourself by playing mini-games that will give you surprises and enrich your gameplay experience. One thing to note, in My Talking Tom Friends, self-promotional products are displayed. Players can directly access the official online store by clicking the links contained in the ads. The AI will personalize the content displayed in the app for every player. The game integrates with Youtube so as to enable players to enjoy the videos of the animated characters. If players want more exclusive services, they could make in-app purchases.
【Gamematch3's Review】
As an excellent successor of its previous series, My Talking Tom Friends inherits the merits of its previous versions and adds new features to itself to provide players with more enjoyable as well as challenging experiences. Players are required to take care of six characters at the same time and handle various situations. Feeding the characters and dressing them up are the basic requirements. Playing mini-games and joining in multiple activities are further needs for those characters that require players to deal with. Though the ads distract players' sometimes, considering their self-promotion attributes rather than third-party product promotion, it is understandable and acceptable. Players have to handle six characters and deal with multiple tasks at the same time, which is both challenging and fun for them. Anyway, go for itand we would like to hear your good news!

Android
Go to Google Play

iOS
Go to App store

Online Game
Go to Play Online Games
Good App Guaranteed:
The game download links are from the official download platform App Store and Google Play, safe and free of malicious plug-ins, please feel free to download.
New Games