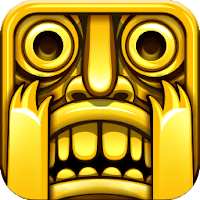 Temple Run

200018
| | |
| --- | --- |
| Size : | 49.28 Mb |
| Version : | 1.19.3 |
| Updated : | November 25, 2021 |
| Developer : | Imangi |
| | |
| --- | --- |
| Size : | 181.01 Mb |
| Version : | 1.19.1 |
| Updated : | August 12, 2021 |
| Developer : | Imangi |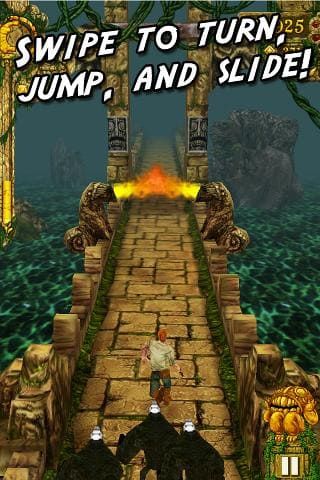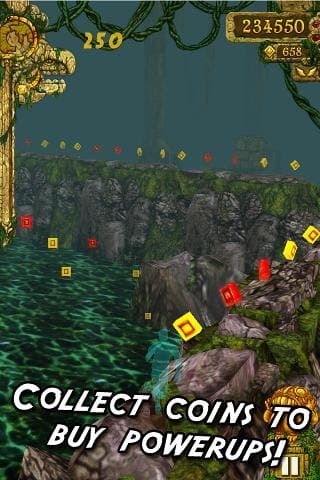 YouTube Temple Run: Gameplay Walkthrough Part 1 - Escaping (iOS, Android)

88

34
REVIEW
First of all, the game is free, and easy access to props is the biggest advantage of this game. Simply put, you no longer need to rely on in-app payments and get the full gaming experience without buying anything. For example, you can buy props and characters in the store by collecting coins during the game. As you keep running forward, you will collect more and more coins, which can be used to buy some props and practical tools in the game dealer. Some of these tools can help you absorb coins and get a hundred coins as rewards. And accelerated running props, which allow you to cross any obstacles and traps, and you cannot turn when you are invisible, and you need to control the direction of the turn.
The second point is that compared with games of the same type, Temple Run has full-color images and careful design, which well portrays the mysterious atmosphere of ancient temples, and the background melody is also very exotic. The running process of the characters is like being there, giving players a thrilling feeling. And as the game progresses, the speed becomes faster, accompanied by more obstacles, but the game as a whole is still very playable, bringing great challenges to players who like high scores.
On the whole, Temple Run is still worthy of the majority of players to try. Brand new content and different gameplay, you can unlock a lot of props here, which can help you get a better gaming experience.
How to play
【One Sentence Introduction】
Come and immerse yourself in this addictive and exciting escape, all in here: Temple Run.
【Gamematch3'sRecommend】
Have you ever imagined a life-and-death escape in an ancient temple like the hero inadventure movies?Here in Temple Run, an immersive escape experience is waiting for you to run for your life. Developed by Imangi Studios, Temple Run is a classic endless running game in which you need to control your character to keep running from demonic monkeys chasing due to your theft of a golden idol from an ancient temple. As you can see here, different from other running games, Temple Run bestows your running an objective and meaning, which is to escape from the temple and get away from the monkeys' chasing, rather than make your character run just for the sake of running. Don't assume that all you can do in Temple Run is just make your character run endlessly. After your character starts the journey of escape, you will encounter a battery of obstacles that you need to jump over or slide under, and some of the roads are even broken. If you are not careful or concentrated enough, you will run into trees, walls and water or get caught by monkeys. The longer you run, the faster your character becomes and the more complicated the road be. Not only does Temple Run allow players to swipe their screen up and down or left and right to control their character across obstacles and adjust their direction of travel, but it also features a gravity-sensing program that allows players to easily move their character to any side of the screen by tilting their device to the left or right, which greatly enhances the smoothness and convenience of players in the gameplay. With such an easy-to-master operation method, come and try to run the farthest distance! In addition to aiming for the longest distance while running in Temple Run, you can also collect as many coins as possible while controlling your character's running, with which you are able to unlock new characters and buy helpful powerups. It's worth noting that there are three kinds of coins of different values and colors, including gold, red, and blue. A red coin and a blue coin are respectively twice and three times as valuable as a gold coin. So try your best to collect these coins yet avoid dying at the same time!
【Gamematch3'sReview】
In terms of practical game experience, Temple Run is superior to other running arcade games no matter in the gameplay, visual effects or game immersion. In addition to the goal of completing the classic never-ending escape, there are 36 achievements to be earned as you run, including the furthest distance you can run and the most amount of coins you can collect and so on, which ensures that you not only won't consider the game repetitive and tiring, but gives you a sense of mission and achievement throughout that motivates yourself to keep challenging. Additionally,Temple Run uses full 3D visual effects as well as a three-person perspective throughout the game, coupled with exotic background sound effects and graphics, leaving its players with an extremely immersive dynamic experience.

Android
Go to Google Play

iOS
Go to App store

Online Game
Go to Play Online Games
Good App Guaranteed:
The game download links are from the official download platform App Store and Google Play, safe and free of malicious plug-ins, please feel free to download.
New Games