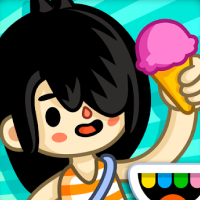 Toca Life: Vacation

305
| | |
| --- | --- |
| Size : | 48.23 Mb |
| Version : | 1.4-play |
| Updated : | June 16, 2022 |
| Developer : | Toca Boca |
| | |
| --- | --- |
| Size : | 315.23 Mb |
| Version : | 1.4 |
| Updated : | July 1, 2022 |
| Developer : | Toca Boca |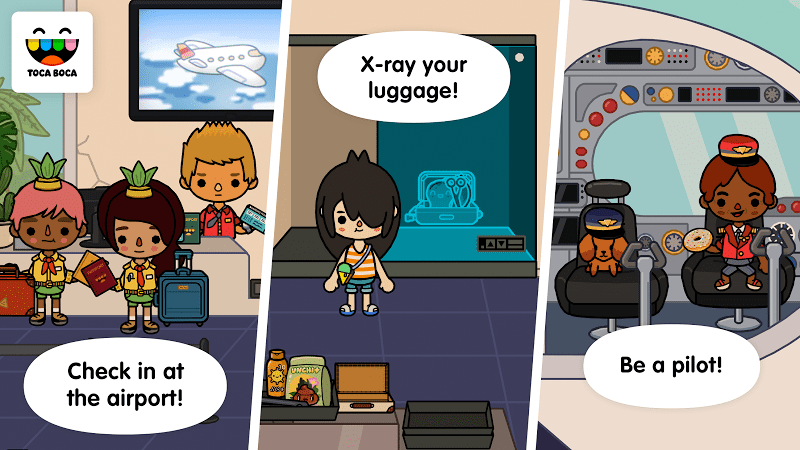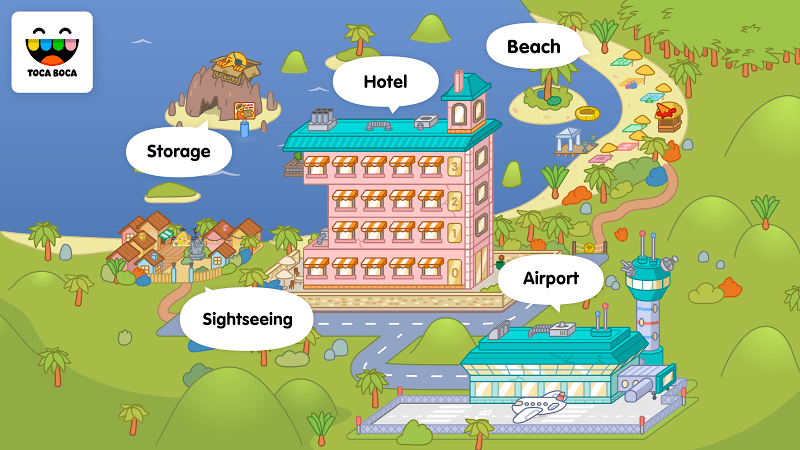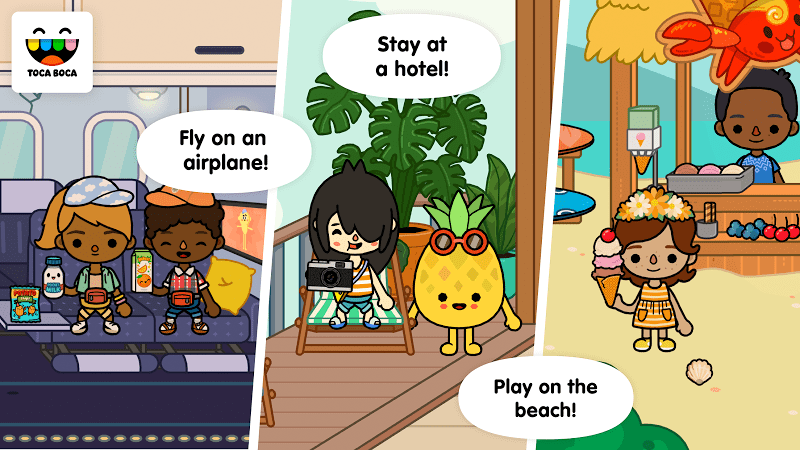 YouTube Toca Life: Vacation (Toca Boca AB) - Best App For Kids

126

36
REVIEW
Toca Life: Vacation is a Tocaseriesgame. The scene has moved from a noisy city to a small island in a holiday resort, where you can enjoy online shopping, hotels, attractions, In various scenes such as the airport, you can find different island secrets. If youare interested in Toca Life: Vacation, you might as well try it!
With four places to explore in Toca Life: Vacation, your storytelling inspiration will never run out. Do you want to start your adventure from the airport? You will experience the fun of X-ray baggage screening, boarding and cockpit tours. Then grab a snack and enjoy the flight! At the destination, there are many activities to choose from: shopping, sightseeing on the boardwalk, beach games, sea surfing and hotel tours. You'll find tons of surprises in Toca Life: Vacation. Find out about the inhabitants of the ocean floor, open secret huts, unearth treasures, and investigate very mysterious statues.
At the same time, it canalso create pristine videos with the recording feature built into the app! This feature records your voice as you tell the story, along with your character's movements. Create vacation videos up to two minutes long and save them to your camera roll to share later!
How to play
【One Sentence Introduction】
Embark on vacation and free yourself from the daily anxiety and pressure by taking on a journey in Toca Life Vacation!
【Gamematch3's Recommend】
Wanna make every ordinary day as your adventure? Jump on the flight and take a trip overseas without spending a penny and enjoy your summer holiday on the beach! All you want is in Toca Life Vacation, where you can fly anywhere whenever you want! With four different locations for you to explore, from the airport and hotel, to the beach and sightseeing places. You are free to choose where you wanna go and customize your journey and create your own story before boarding the flight, going through a series of procedures at the airport like being scanned by the X-ray machine and luggage exam. Enjoy the view from the sky while eating delicious snacks in your seat. Engage in a variety of activities after arriving at the destination. You can choose to either go shopping or go sightseeing. Or you can simply enjoy the sunshine on the beach and go surfing in the ocean. All facilities in the hotel are accessible to you, so get ready to explore every detail during your journey. Throughout the vacation, a lot of surprises are waiting for you to unveil, including the mysterious creature inhabiting the seafloor, the buries treasures, as well as bizarre-looking statues. Altogether 34 characters are at your disposal with whom you can create different stories according to your own ideas. Go to a buffet and try to eat as much as possible so your trip will be worthwhile. The fridge in your hotel is also filled with deserts and fruits for you to savor. To have a panorama view from your suite, take the elevator to the top of the hotel. Get souvenirs for your family and friends in the gift shop and leave good memories of the journey by taking photos. Walk on the boardwalk while enjoying snacks and interacting with ocean animals on the beach. You will find everything possible in Toca Life Vacation and have an immersive and authentic experience while exploring the mysteries of the island. With no time limits and rules restraining you, you can freely explore the game as long as you like.
【Gamematch3's Review】
Without in-game ads and purchases, Toca Life Vacation provides you with an economical way to go on a journey to relax without the interference of external factors. Everything is gonna be smooth in the game, from taking a flight at the airport to landing at the destination. Make full use of the functions and features in the game to enjoy an all-around and immersive vacation experience. Four locations with different procedures teach you lessons about how to start a real-life journey so that the next time when you take a real journey, you will have previous experiences to refer to. With 34 characters to choose from, you can create your own unique stories and explore the novel events and items at the sightseeing spots. Toca Life Vacation enables players to learn about the common steps of vacation and brings an authentic experience to players with its well-designed interfaces and graphics. The audio and visual effects of the game also improve the quality of the game to a new height. In a word, Toca Life Vacation offers players a real-life vacation experience and allows players to start an unrestrained exploration of the game world as long as they like without any time limits and score requirements. The game is suitable for players of all age groups.Enjoy!

Android
Go to Google Play $3.99

iOS
Go to App store $3.99

Online Game
Go to Play Online Games
Good App Guaranteed:
The game download links are from the official download platform App Store and Google Play, safe and free of malicious plug-ins, please feel free to download.
New Games