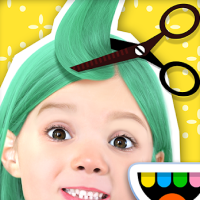 Toca Hair Salon Me

302
| | |
| --- | --- |
| Size : | 78.64 Mb |
| Version : | 2.1-play |
| Updated : | March 17, 2022 |
| Developer : | Toca Boca |
| | |
| --- | --- |
| Size : | 127.12 Mb |
| Version : | 2.1 |
| Updated : | March 11, 2022 |
| Developer : | Toca Boca |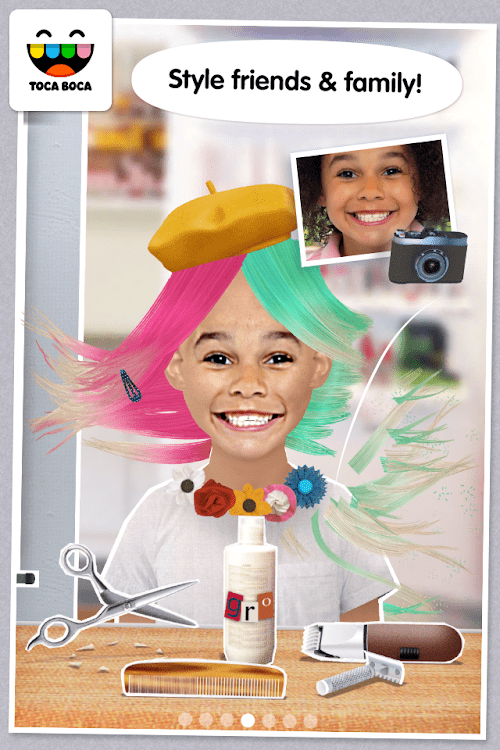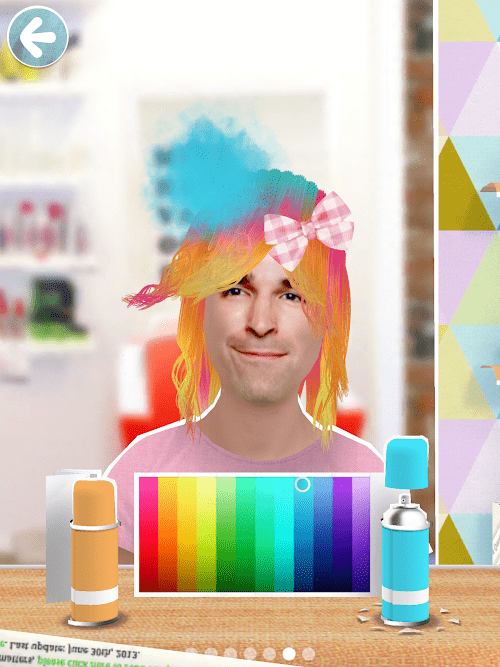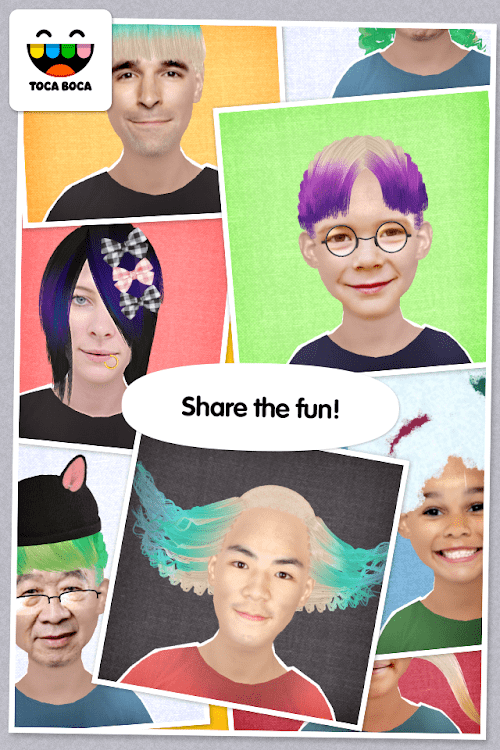 YouTube Toca Hair Salon Me by @tocaboca App Sneak Peek with MKP

70

38
REVIEW
Toca Hair Salon Me is a business game with a very magical gameplay. In Toca Hair Salon Me, players will run a hair salon, earn gold coins by cutting hair for various customers, and have a variety of hairstyles for players to choose from. Each customer has a different hairstyle. Players need to carefully observe the customer and choose the most suitable hairstyle for the player. You can also use gold coins to unlock more popular hairstyles.
Toca Hair Salon Me can give your family and friends a whole new look! Just take a snapshot and start your hair styling journey! Curly, straight or purple? Create stylish hairstyles however you want! Keep it long or cut it short, cut off one side or spray dye it in rainbow colors. There are countless options for you to choose from! Add a variety of accessories, you can use hats, sunglasses, hairpins, etc. Don't forget to take a photo to share with your friends. Now you can also style your hairstyle using your own photo as a background.
In a word, Toca Hair Salon Me is fun to operate, fast in response, flexible in operation, and the operation content can also bring players a very unique experience. At the same time, the game is very creative, the player will become a good hairdresser, and then design and trim all kinds of good hairstyles for the characters in the game.
How to play
【One Sentence Introduction】
Developed by Toca Boca, this mobile game is featured by its extremely flexible choices of hairstyle designs and character creation.
【Gamematch3's Recommend】
Toca Hair Salon Me is a hairstyle simulation game where players have the full freedom and options to style their hair as their heart desires. It is worth mentioning that not so many games are as well-made and artistically-looking as this one whose gameplay is not only addictive but also incredibly satisfying. Players aren't just free to do each customer's hair, they also have many other side work relating to hair-dressing and salon service, which include shaving, washing, hair dye, etc. It is true to some people that none of this may sound like a huge adventure or hard challenge, but once players have all those tools at their disposal, they would gain a sense of confidence and satisfaction real quick. The biggest challenge a player faces is perhaps to cut a customer's hair appropriately without messing it up. However, such a concern is not a problem in Toca Hair Salon Me. This is because there are many side tasks players can take on and some of the features are attractive. For example, players usually would try the "Grow first" feature where they can even grow customers' hair back. This means the hairdresser can go for vastly different styles from what the customer originally has. Plus, a lot of characters have weird hairstyles that are difficult to get rid of by just cutting. |Another feature players often opt for is to swipe, which is to swipe the customer left and right so that they can relocate to different stations where they can cut, rinse and add accessories on top of their creations. When the hairstyles are all done, then players can dress their clients, and snap a sleek picture. Other popular features also include combing upwards if they are trying to cut hair to a certain length, they can comb it upwards and make sure the hair stays put. Another special feature is the so-called "Go Crazy". In short, it is a game, players definitely can do whatever they want with their hair and appearances in general. In other words, there aren't things players are not allowed to do. The task and goal of the game are simple and specific, which means players can focus on one type of task more attentively. Other than hairstyles and dressing, players can also fully enjoy and try out their tools to see which ones might be helpful.
【Gamematch3's Review】
This game is indeed very family and kids-friendly as many other titles in the Toca Life series. The best feature of the game is to allow players to choose from a series of bright and interesting characters who cannot wait to try on some new or even crazy hairstyles. This means players can do many more things such as combing, cutting, or shaving, as well as hairstyling with useful tools. A hair washing and dyeing station are offered, as well as the super ability to grow back one's cut-off hair. Furthermore, players can play with various fashion items and accessories to further beautify their customers. Another good feature that players like is the quick snapshots which are quite simple to use for Toca Hair Salon Me. This also makes image search faster in the photos one may have previously taken. The downside of this game is that unfortunately, it has not included a multi-player mode yet so players can only enjoy this fun game by themselves instead of playing with family and friends.

Android
Go to Google Play $3.99

iOS
Go to App store $3.99

Online Game
Go to Play Online Games
Good App Guaranteed:
The game download links are from the official download platform App Store and Google Play, safe and free of malicious plug-ins, please feel free to download.
New Games