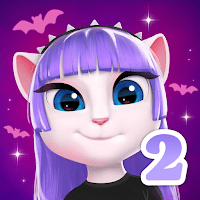 My Talking Angela 2

320008
| | |
| --- | --- |
| Size : | 160.43 Mb |
| Version : | 1.8.1.16786 |
| Updated : | September 29, 2022 |
| Developer : | Outfit7 |
| | |
| --- | --- |
| Size : | 215.48 Mb |
| Version : | 1.8.1 |
| Updated : | October 4, 2022 |
| Developer : | Outfit7 |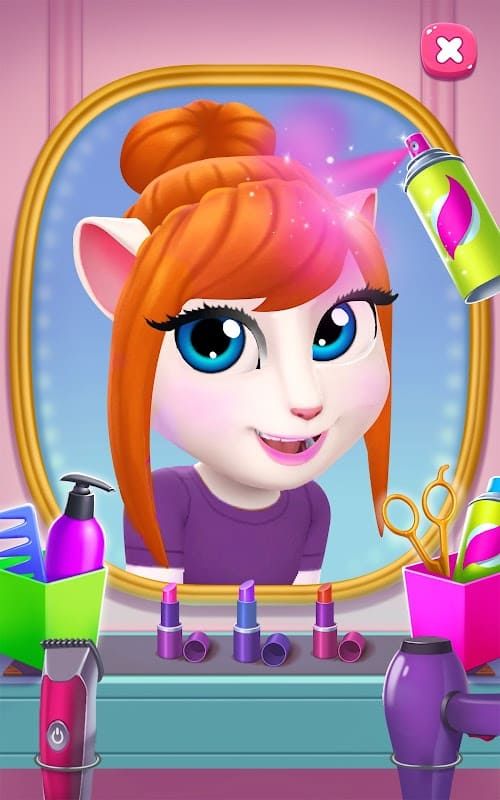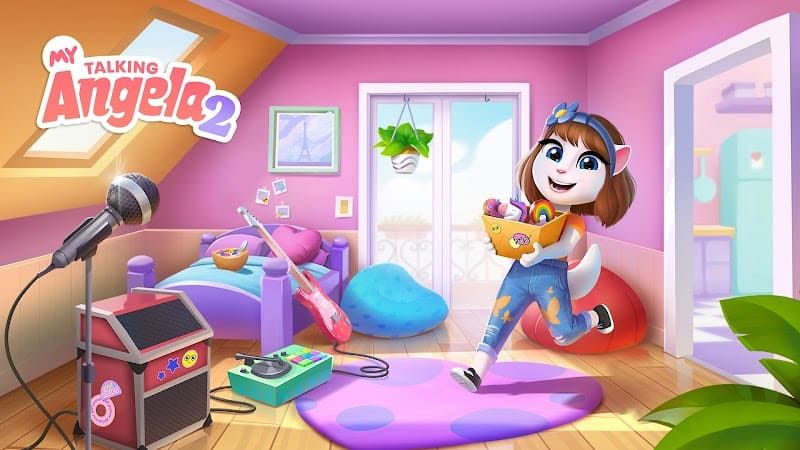 YouTube My Talking Angela 2 New Update Coming Soon Gameplay Walkthrough Episode 151

252

53
REVIEW
The advantage is that cute elements are added to this game, and more than 90% of the people prefer cute styles, which can relieve psychological pressure. Games are the best choice, let the body and mind get a moment of leisure, and leave all the trivial things behind. In My Talking Angela 2, there are more beautiful costumes and various cute accessories, and more fashion images are waiting for you to create. What's more, the game add makeup and recreational activities, let your Angela go further and further on the road of beauty and talent.
The second point is that like My Talking Tom, as a very casual simulation game, players can experience a more interesting and realistic Angela shape in this game than the previous one. In addition to basic singing and dancing, players can ask Angela to date friends, shop together, and make cakes.
Overall, this is a very interesting dress-up game. There are many operations you need, so that you can dress up more easily when you operate and use it. The character you dress up is a cute cat. In addition, there are a lot of gameplay and surprises you need in the game are waiting for you to experience it yourself.
How to play
【One Setence Introduction】
Provided by Outfit7, My Talking Angela2 is another virtual pet game in the 'My Talking' series and it is featured with the cute and fashionable cat character Angela who brings all the charm and joy to the caring players.
【Gamematch3's Recommend】
My Talking Angela 2 is a well-crafted 3D mobile game, featured with plenty of fine details on nearly every aspect of the game scenarios where almost all the objects and settings look visually beautiful and pleasing enough to attract players even if this is not the type of game for some people at the beginning. Admittedly, some players may come across with some minor visual bugs and glitches when they are doing some activities. However, normally these minor issues won't affect the general gameplay experience. Meanwhile, the game control is ultra-simple because essentiallyplayersdon't really control Angela. Instead, what they do in the game is just to point the character to various interactive objects, or to drag those objects towards the pet. My talking Angela 2 is a genuinely free to play game where you can unlock almost everything by playing the game with dedicate time, no pay wall or pay to win aspects. You will start the game with a good tutorial which will guide on how to interact with icons and objects, surprisingly the tutorial leave you the freedom to explore other screen or objects which is rare in mobile game today. After you have finish the tutorial you should be able to understand how the game works or at least have an idea.The game is simple, try to keep the basic needs of Angela's up while doing all the activity. Meanwhile, it is also important to keep a balance in playing the game. Players need to learn how to earn enough rewards and tokens to further improve Angela's living environment, while also make sure the pet would not be too exhausted in doing all sorts of activities.
【Gamematch3's Review】
Overall, the game receives a very positive market response and mostly the game seems to be working smoothly with very rare and occasional laggings when players are moving around objects. It is a free-to-play game, although it comes with a cash shop, it doesn't affect game experience directly and most of the items sold are for cosmetics and decorative purposes, which means that it would not enhance and affect the game performance. If players want to experience of owning a pet or taking care of someone, this game is the perfect example for them. My talking Angela 2 is a good free to play game for everyone including younger players who can gain the caring experience and learn to be patient in this pet simulation game. Other than that, most people would naturally be drawn to the game by its beautiful graphic, nice sound effect and good animations etc, particularly the distinct background.Ads are present in this game and they have their own ads at the top of the screen which is often not noticeable and players can watch ads to obtain or unlock new skins or other cosmetic items.

Android
Go to Google Play

iOS
Go to App store

Online Game
Go to Play Online Games
Good App Guaranteed:
The game download links are from the official download platform App Store and Google Play, safe and free of malicious plug-ins, please feel free to download.
New Games